TIM Plus®
Fully-featured phone call analytics
for up to 5 phone systems
Overview
TIM Plus is a simplified version of our TIM Enterprise product. It focuses on the needs of small to medium enterprises. It provides a single, unified management and reporting interface for up to 400 users on up to five on-premise or cloud-based PBXs, including platforms such as Microsoft Teams, Zoom, etc.
Using a simple, intuitive, web interface, TIM Plus shields the user from the underlying complexity of its powerful call processing engine and multitude of modern features.
Log up to 5 sites
TIM Plus can log call data from up to 5 systems, so you can use a single system to serve all of your sites or a range of systems from different providers on each one, including collaboration platforms such as Microsoft Teams.
For installations that span more than one territory, there are over 200 localized tariff tables included with the product.

Size matters
You can start off with as few as 50 users and upgrade your license at any time as you grow.
TIM Plus is for SMEs with up to 400 users, so if you think you'll exceed this, you may prefer to look at the TIM Enterprise product instead, which allows an unlimited number of users and connected systems.
Everything's included
All features come as standard, including all call reports and customisable live display boards.
Easy access
The entire system is accessed using just a standard web browser with no special client software required.
The system administrator can easily grant access to others by adding web users which can be restricted to a specific part of the business.
These delegated web users can run ad-hoc and scheduled reports, whose scope is limited to the users and groups under their control.
Intuitive reports
The call reports allow you to view and drill into complex data using hyperlinks, sortable columns and interactive graphs, giving you invaluable business information at the click of a button. Reports contain clear, intuitive graphs that quickly summarize call patterns.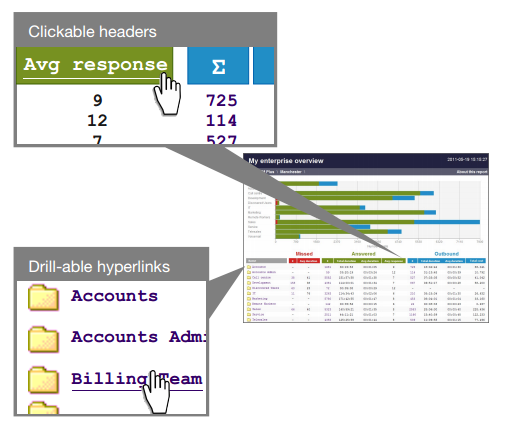 Live statistics
Thanks to its unique live call processing engine, TIM Plus has the unprecedented ability to provide dynamic statistics at any number of points inside your organizational structure.
Display Boards allow immediate visibilty of this call data. These Display boards can be displayed on any screen capable of showing a web page, such as a large LED screen, a PC, or even a smartphone.
All display boards are completely customisable and can contain call data as well as feeds from external systems.
Display boards are constructed using a combination of Label, Leaderboard, Summary, RSS feed and Web page panels, all using the web-based screen designer.
We also provide a selection of templates for you to customize.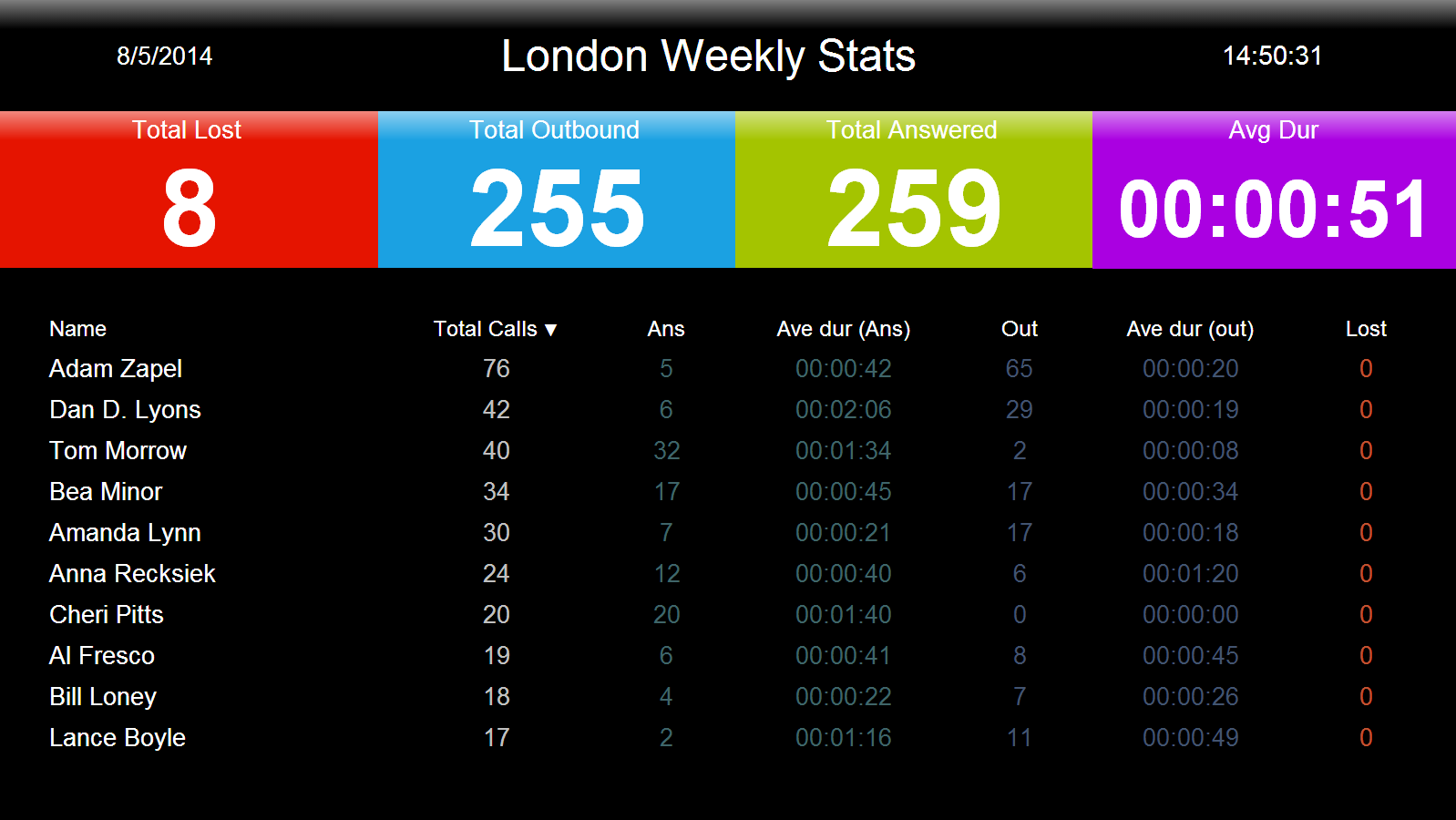 Voice recording
Add one or more of our Echo call recording products and TIM Plus becomes a fully-integrated, comprehensive call recording platform with high-end features such as audio encryption, PCI-DSS compliance tools and agent call performance scoring.
These extra features are fully integrated and recordings are accessed into the same standard web browser interface. Simply click on the speech bubble alonside any call to hear the associated recording. You can also add notes to the call, score it, see/hear related calls, view a call audit and save a copy of the call.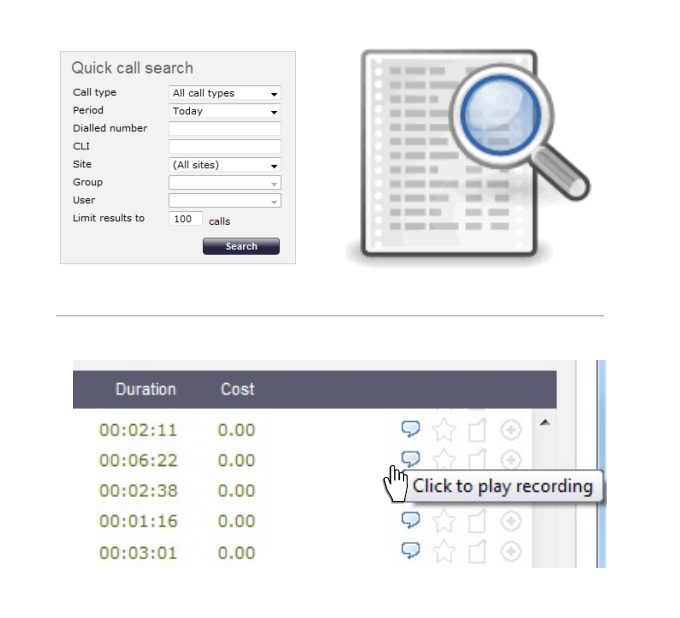 Mobile billing
TIM Plus can take mobile billing feeds from your provider, and reporting on these is easy... just select them as a specific call type in any of the reports!
Everything in one place
Running as a Windows Service, all of the administration of TIM Plus is performed through a standard web browser from any machine on your network. Whether it's a PC, a Mac, or a Linux box... as long as it's got a web browser, you'll be able to administer all of your sites' phone call data in one, simple, easily bookmarkable place!
There's no need to violate your network security policies, or allow dubious third-party client software to clutter your desktop machines. All the features of TIM Plus are accessible through a standard web browser with no client software whatsoever required!
Quick call search
Gone are the days of having to run an entire report just to locate a single phone call. Now, you can quickly locate the calls you want in milliseconds, straight from the front screen of TIM Plus.
When upgrading to add our Echo call recording option, you can even access the associated call recordings as these are attached as just another property of the call.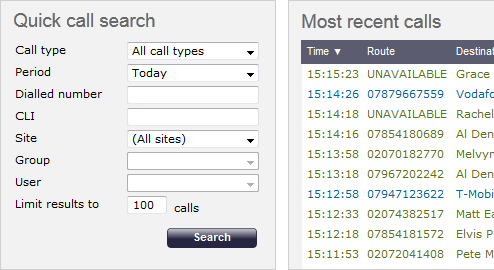 User-definable headers
We recognize that different organisations want to see different call information. Therefore users are allowed to define the headers in all 'Live calls views'. These headers then remain unique to each individual user.
Customising is easy, simply tick or un-tick the columns you would like to display in the Live call view. If a green tick is displayed alongside the header, it will be displayed. To prevent wrapping we would recommend that you do not display ALL information!
Also note that columns can be displayed in any order you choose. To re-order, you can simply click on and header and drag left or right until you reach the position on the screen where you would like to display it!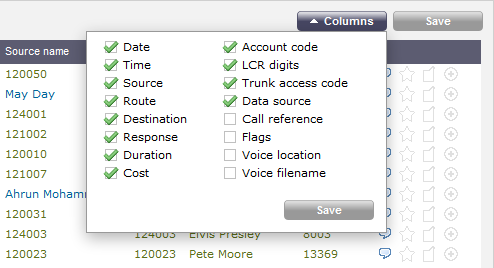 Customisable web content
The whole web interface is made up of open standards HTML, Javascript and images, served directly from inside standard folders, so you can customise exactly what your users see and do.
Dig a little deeper, and the behaviour of any of the internal AJAX functionality can be altered, meaning you can integrate your company intranet right inside your call logger... or the other way round!